Emily
LEAD DESIGNER
As lead designer at Marvista Design + Build, Emily Borne has the unique ability to make her clients' dreams come true while keeping safety and sustainability in mind. She transforms needs and visions to designs with form and function reflecting her clients' unique personalities. Emily's years of experience coupled with her understanding of different fields of design has led to a portfolio of unique kitchens and creative projects that involve ingenuity and vision.
Emily started her design career at a University level by completing a BA in Theatre Arts with a concentration in Set Design. She later received a Certificate in Film Studies from Pittsburgh Filmmakers with a concentration in Production Design.
Emily's professional career has given her a distinguished design perspective. Running the Design Department at Plantscape introduced Emily to the world of Interiorscaping for commercial projects such as hotels, malls, casinos, and offices. Later, she transitioned to residential design focusing on her passion for kitchen and bath design over the past 17 years.
Lindsay
DESIGNER
As a designer at Marvista Design + Build, Lindsay's approach to residential design incorporates forward thinking trends. She provides thoughtful solutions for maintaining the architectural integrity of existing spaces while improving the overall lifestyle of her clients through their newly designed dwellings. She has the technical ability to layer lighting layouts and detailed renderings. Her clients appreciate her well-crafted vision.
Lindsay brings over 10 years of interior design experience to the Marvista Design + Build Team.
She received her Masters of Interior Architecture from Chatham University in 2009 and has developed a unique set of skills which are reflective of her design style and understanding of details.
Sara
Designer
As a designer at Marvista Design + Build, Sara takes great satisfaction in developing innovative design solutions that keep the client's style and budget in mind.
Sara started at Marvista Design + Build as a design assistant and assistant project manager. She has since grown into a designer position. Sara has a great vision for the design build process and exceeding clients' expectations.
Sara's creative and detail-oriented personality led her to the career path of Interior Design. Her studies included commercial and residential design. She received her Bachelor of Science in Interior Design in 2018 from Indiana University of Pennsylvania. Her passion for residential design brought her into the kitchen and bath industry.
Paul
Production Manager/Estimator
Brittni
Sales and Marketing Coordinator
Mike
Lead Carpenter
Mike grew up working on his father's construction sites. He learned carpentry while working on multimillion-dollar homes in Sewickley and Peters Township. When the family business moved, he moved north and found a home with Marvista Design + Build.
Shannon
Lead Carpenter
Shannon worked for his father's construction company in the custom home business for 25 years. He found his passion for finish work along the way. Shannon's favorite part of the job is taking the design or idea and bringing it to life.
Brandon
Carpenter
Brandon brings over 8 years of construction experience to the job. He started with roofing and found a niche for interior remodeling. He enjoys learning new tricks of the trade from the rest of the Marvista team.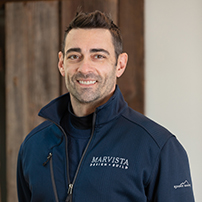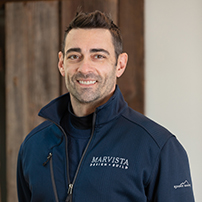 why choose us
We build and maintain lifelong client relationships.
We manage your project from start to finish.
We create a stress-free experience for our clients.
We design vibrant spaces that bring your dreams to life.
We have our own expert designers, project managers, and carpenters.
We create one-of-a-kind spaces that are uniquely YOU.