About Marvista Design + Build
Working to Reimagine Home Environments in Pittsburgh
Michael & Leah Jacobs
Owners
At Marvista Design + Build, we take a unique, sophisticated approach to the design-build process. Using advanced technology and a whole-team approach, our fully managed process is focused on transforming your ideas into the space of your dreams. We provide start-to-finish, design-build solutions for new construction, redesign, and expansion projects.
From initial consultation through project completion, our experienced team will work closely with you, providing exceptional service and results you'll love! Check out more details of how our unique process works to see what sets Marvista Design + Build apart from the above competition.
Michael Jacobs is the owner and president of Marvista Design + Build. In addition to bringing his clients' dreams to life with kitchen and bath remodels, Michael also runs Marvista Rentals, LLC and Marvista Construction, LLC. He actively builds, manages, and renovates homes and apartment buildings in the Squirrel Hill neighborhood of Pittsburgh.
Before moving to Pennsylvania, Michael spent 25 years in Hollywood as the owner and president of Marvista Entertainment, a leading independent producer and distributor of feature films and family entertainment programming. He has more than 100 executive producer credits for feature films and TV movies made for 21st Century Fox, Walt Disney, Warner Brothers, NBC, Lifetime, and others.
Once he moved to Pittsburgh and started his home building and renovation businesses, Michael realized that Hollywood and real estate have more in common than he first expected. His unique background gives him creative vision and an eye for trends that allow for refreshingly practical yet distinct kitchen and bathroom remodels.
Leah is the Chief Financial Officer of Marvista Design + Build, LLC, Marvista Rentals, LLC and Marvista Construction, LLC.
Along with overseeing Marvista's Financial Reporting she particularly enjoys streamlining processes and developing internal procedures. This ensures that Marvista's team is efficient and can focus on what they do best – Design for their clients!
As a retired CPA, Leah's professional career started at Deloitte and Touche and led her to work in and lead teams in a wide range of industries from healthcare and finance to oil, gas and manufacturing.
While taking a career break and raising her family, she assisted Michael with his endeavors through financial guidance and input on corporate structure to build the suite of Marvista businesses.
Rori
Lead Designer
Rori, a Pittsburgh native, found her way to Marvista Design + Build after working for many years as an interior designer in Redondo Beach, California. Creative collaboration and communication with clients is the keystone to her design practice. She has an innate ability to create an atmosphere that feels fresh, but authentic to the architecture of the home.
The majority of Rori's 14-year career has been built on new home construction, and her experience designing homes from the ground up has helped her hone her love of architectural details and space planning. She loves the entire collaboration process, from listening to the client's needs to creating the space on paper with the architect to getting in the field to work things out in real time. Rori is also experienced in reimagining individual spaces and enjoys transforming homes with history in the Pittsburgh area.
Rori received her training from the Fashion Institute of Design and Merchandising in Los Angeles and also holds a Bachelor of Arts degree in Musical Theatre from Point Park University. Rori is an avid theater lover who loves being on the stage and taking her daughter to shows. She is married with two children, Frankie and Ronin.
Lindsay
Senior Designer
As a designer at Marvista Design + Build, Lindsay's approach to residential design incorporates forward thinking trends. She provides thoughtful solutions for maintaining the architectural integrity of existing spaces while improving the overall lifestyle of her clients through their newly designed dwellings. She has the technical ability to layer lighting layouts and detailed renderings. Her clients appreciate her well-crafted vision.
Lindsay brings over 10 years of interior design experience to the Marvista Design + Build Team.
She received her Masters of Interior Architecture from Chatham University in 2009 and has developed a unique set of skills which are reflective of her design style and understanding of details.
Sara
Designer
As a designer at Marvista Design + Build, Sara takes great satisfaction in developing innovative design solutions that keep the client's style and budget in mind.
Sara started at Marvista Design + Build as a design assistant and assistant project manager. She has since grown into a designer position. Sara has a great vision for the design build process and exceeding clients' expectations.
Sara's creative and detail-oriented personality led her to the career path of Interior Design. Her studies included commercial and residential design. She received her Bachelor of Science in Interior Design in 2018 from Indiana University of Pennsylvania. Her passion for residential design brought her into the kitchen and bath industry.
Paul
Production Manager/Estimator
Paul joined Marvista Design + Build six years ago as a project manager and estimator, and brings a wealth of construction knowledge and experience to the team. He oversees the estimating and construction process, and the skilled team of project managers at Marvista.
Over the past 25 years, Paul has built more than 120 new homes and has completed numerous additions and home renovations. He has intimate knowledge of how homes are constructed along with how to rearrange layouts in order to give each client the space and floor plan of their dreams. Paul enjoys seeing the projects begin as a concept or idea and helping them grow into a beautiful completion
Verica
Project Manager
Verica joined the Marvista Design + Build team as a project manager in March of 2022. She has a bachelor's degree in interior design and a combined 10 years of experience as a project manager and designer.
Verica manages daily site visits with carpenters and trade partners to review technical details, along with clients and designers to review project details. She provides constant communication with clients outlining progress and design updates and makes sure the schedule for project completion remains on track.
Verica enjoys seeing each project come to life and keeping the client included throughout the process. The final walk-through is one of her favorite moments. Outside of work, Verica's favorite moments are spent playing pickleball, spending time in nature or with her two fur babies, Thor and Pepper.
Brad
Project Manager
Brad brings more than 10 years of industry experience to Marvista Design + Build, with many of those specializing in new construction. As a project manager, he supports and collaborates with the design team in the preconstruction phase and finalizes the budget for the project. Once production begins, Brad manages projects, meeting with contractors, maintaining the schedule and budget, and ensuring quality work and consistent communication with clients.
Brad's favorite aspect of his work is collaborating with the team and turning concepts into reality. When he's not managing a project, Brad enjoys spending time with his wife and three young children.
Emily
Director of Marketing
Emily is a seasoned marketing and communications professional who is passionate about Marvista Design + Build's unique and sophisticated approach to creating dream spaces for their clients. She oversees all aspects of marketing for the company, from branding to advertising and social media management. Emily's focus is on sharing the quality work and professionalism of Marvista's highly-skilled team, and the unmatched caliber of the company's projects.
Before joining the team at Marvista Design + Build, Emily was an award-winning journalist reporting in communities across Virginia and Georgia. She also served as Director of Communications and Development for a non-profit organization working to improve the welfare of animals. Emily received her Bachelor of Science degree from West Virginia University. When she's not working, she enjoys spending time with her two rescue dogs, Bailey and Brody.
Mike
Lead Carpenter
Mike grew up working on his father's construction sites. He learned carpentry while working on multimillion-dollar homes in Sewickley and Peters Township. When the family business moved, he moved north and found a home with Marvista Design + Build.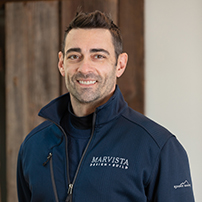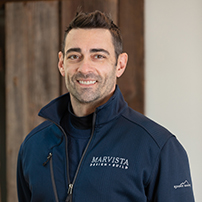 Bil
Lead Carpenter
Bil joined Marvista Design + Build as a lead carpenter with more than 20 years of residential construction experience. He has a great eye for detail and finishing work. Bil enjoys working on a project from start to finish, and providing the client with an exceptional finished product.
Light
Lead Carpenter
Light brings more than 30 years of experience in the construction industry to the Marvista Design + Build team. He started working for contractors during the summer while in college, and later decided to make carpentry his full-time career. Light specializes in tile and flooring, but has spent the past 16 years involved in full kitchen and bath remodeling projects.
As Lead Carpenter at Marvista, he works closely with designers and project managers to install framing, trim, and tile, and any other needs that may come up including electrical duties, paint and repairs. He enjoys working with the talented and dedicated crew and staff at Marvista, performing high-end installations at a company that excels in doing beautiful work.
Outside of work, Light enjoys spending time with his family, hiking, biking, running and snowboarding. He also enjoys music and updating his own house through various remodeling projects.
Ian
Carpenter
Ian joined the Marvista Design + Build team in April as a carpenter. He enjoys working with the lead carpenters to bring each client's vision to life. He has two years of carpentry experience under his belt and enjoys learning from the skilled team of Marvista carpenters each and every day. In his spare time, Ian enjoys playing the drums.
why choose us
We build and maintain lifelong client relationships.
We manage your project from start to finish.
We create a stress-free experience for our clients.
We design vibrant spaces that bring your dreams to life.
We have our own expert designers, project managers, and carpenters.
We create one-of-a-kind spaces that are uniquely YOU.