About Marvista Design + Build
Working to Reimagine Home Environments in Pittsburgh
Michael & Leah Jacobs
Owners
At Marvista Design + Build, we take a unique, sophisticated approach to the design-build process. Using advanced technology and a whole-team approach, our fully managed process is focused on transforming your ideas into the space of your dreams. We provide start-to-finish, design-build solutions for new construction, redesign, and expansion projects.
From initial consultation through project completion, our experienced team will work closely with you, providing exceptional service and results you'll love! Check out more details of how our unique process works to see what sets Marvista Design + Build apart from the above competition.
Michael Jacobs is the owner and president of Marvista Design + Build. In addition to bringing his clients' dreams to life with kitchen and bath remodels, Michael also runs Marvista Rentals, LLC and Marvista Construction, LLC. He actively builds, manages, and renovates homes and apartment buildings in the Squirrel Hill neighborhood of Pittsburgh.
Before moving to Pennsylvania, Michael spent 25 years in Hollywood as the owner and president of Marvista Entertainment, a leading independent producer and distributor of feature films and family entertainment programming. He has more than 100 executive producer credits for feature films and TV movies made for 21st Century Fox, Walt Disney, Warner Brothers, NBC, Lifetime, and others.
Once he moved to Pittsburgh and started his home building and renovation businesses, Michael realized that Hollywood and real estate have more in common than he first expected. His unique background gives him creative vision and an eye for trends that allow for refreshingly practical yet distinct kitchen and bathroom remodels.
Leah is the Chief Financial Officer of Marvista Design + Build, LLC, Marvista Rentals, LLC and Marvista Construction, LLC.
Along with overseeing Marvista's Financial Reporting she particularly enjoys streamlining processes and developing internal procedures. This ensures that Marvista's team is efficient and can focus on what they do best – Design for their clients!
As a retired CPA, Leah's professional career started at Deloitte and Touche and led her to work in and lead teams in a wide range of industries from healthcare and finance to oil, gas and manufacturing.
While taking a career break and raising her family, she assisted Michael with his endeavors through financial guidance and input on corporate structure to build the suite of Marvista businesses.
Lindsay
Senior Designer
As a designer at Marvista Design + Build, Lindsay's approach to residential design incorporates forward thinking trends. She provides thoughtful solutions for maintaining the architectural integrity of existing spaces while improving the overall lifestyle of her clients through their newly designed dwellings. She has the technical ability to layer lighting layouts and detailed renderings. Her clients appreciate her well-crafted vision.
Lindsay brings over 10 years of interior design experience to the Marvista Design + Build Team.
She received her Masters of Interior Architecture from Chatham University in 2009 and has developed a unique set of skills which are reflective of her design style and understanding of details.
Sara
Designer
As a designer at Marvista Design + Build, Sara takes great satisfaction in developing innovative design solutions that keep the client's style and budget in mind.
Sara started at Marvista Design + Build as a design assistant and assistant project manager. She has since grown into a designer position. Sara has a great vision for the design build process and exceeding clients' expectations.
Sara's creative and detail-oriented personality led her to the career path of Interior Design. Her studies included commercial and residential design. She received her Bachelor of Science in Interior Design in 2018 from Indiana University of Pennsylvania. Her passion for residential design brought her into the kitchen and bath industry.
Paul
Production Manager/Estimator
Mike
Lead Carpenter
Mike grew up working on his father's construction sites. He learned carpentry while working on multimillion-dollar homes in Sewickley and Peters Township. When the family business moved, he moved north and found a home with Marvista Design + Build.
Shannon
Lead Carpenter
Shannon worked for his father's construction company in the custom home business for 25 years. He found his passion for finish work along the way. Shannon's favorite part of the job is taking the design or idea and bringing it to life.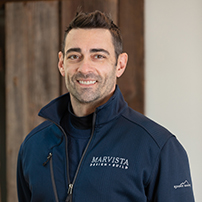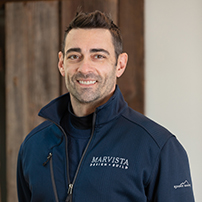 why choose us
We build and maintain lifelong client relationships.
We manage your project from start to finish.
We create a stress-free experience for our clients.
We design vibrant spaces that bring your dreams to life.
We have our own expert designers, project managers, and carpenters.
We create one-of-a-kind spaces that are uniquely YOU.